Glass Dividers in Las Cruces, NM
Art Glass Inc. has been serving customers throughout Las Cruces, NM since 1969 with quality glass products and friendly, affordable service. The COVID-19 pandemic has been challenging for every industry, and if you're a business owner, you've likely been forced to create new protections for employees and customers—including putting up glass partitions.
If you need glass dividers, allow us to custom-manufacture partitions that safeguard everyone who sets foot into your business. These barriers help prevent the spread of the virus, while still allowing you to conduct business smoothly. Whether you want a movable or permanent divider, we work with you to develop the right protective barriers for your commercial space.
Glass Barriers and Partitions for Your Business
No matter the size you need for your space, we work with you to select the right glass for your project, then fabricate, deliver and install it on-site to protect the health and safety of anyone who stops by your property. It's a simple way to show customers and employees that you care, and to remain compliant to CDC and municipal safety guidelines.
Dividers: We make glass dividers of any size to keep you and your employees safe. These barriers allow for pass-through of documents and other items, and there are speak-through options available, too.
Glass Partitions: Glass partitions in Las Cruces, NM, are intended to separate larger areas and keep people at your business safe. These partitions can be permanent or movable depending on your needs.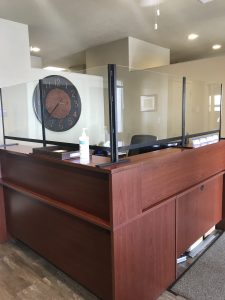 Providing Safety During Unprecedented Times
The COVID pandemic has been challenging for all businesses, and you need to have adequate protection installed to keep your employees and customers safe. Art Glass Inc. is able to quickly deliver these safety solutions so you can get back to business. Contact us today at 575-526-2424 to learn more about our solutions for both residential and commercial glass.